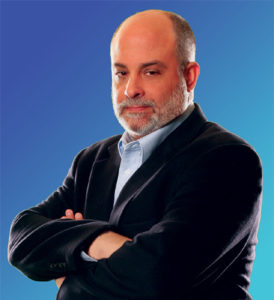 MONDAY to FRIDAY -- 07:00 PM - 10:00 PM
Mark Levin is host of the fastest growing talk show in the current radio landscape. With nearly 150 stations — including 20 of the Top 25 — The Mark Levin Show has become one of the most popular, entertaining, and unique programs in Talk radio.
Mark is also one of the top conservative thinkers and authors of the day. His radio show on WABC in New York City skyrocketed to Number 1 on the AM dial in his first 18 months on the air in the competitive 6:00 PM – 8:00 PM time slot, beating the Yankees, Mets, all news and sports stations. Mark's book Men in Black is a scathing review of the Supreme Court. It was released February 7, 2005 and quickly climbed to Number 3 in the nation on the New York Times Best-Seller list. His critique of judicial activism was so compelling it was used by politicians and talk-radio listeners alike to influence the outcome of the John Roberts and Sam Alito nominations to the Court.
Mark has risen to among the top-tier of talk show super-stars. According to Levin, "Radio must be entertaining, compelling, and passionate. In most markets, my show follows Rush and Sean. I have to bring my own personality, humor, and experiences to the microphone. I try to reach out and grab each and every listener."
Mark Levin took over the WABC 6:00 PM slot on September 2, 2003. Before that, he hosted a popular Sunday afternoon program. "He's smart, witty, and fast on the draw," says WABC Program Director Phil Boyce. "He has this sharp sarcastic wit that can easily stun his opponents. I know I would not want to debate him. Everyday Mark manages to come up with a new twist on the day's top news events, as well as his own unique information. His passion and intellect have made him a favorite of hundreds of thousands of radio listeners in the New York City area.
Sean Hannity calls him "The Great One." Rush Limbaugh calls him "F. Lee Levin." He served as chief of staff to the Attorney General of the United States in the Reagan administration. He was awarded the coveted Ronald Reagan Award in 2001 from the American Conservative Union. Mark has appeared on hundreds of television and radio programs, is a contributing editor for National Review, and blogs regularly on National Review Online. He currently practices law in the private sector, heading up the prestigious Landmark Legal Foundation in Washington DC.